Retro Tuesday: '80s Lyrics Quiz #9
Here's a short version this week, so you can spend your time

paying it forward

instead of flipping through that old '80s collection!





1. Just don't ask me how I am
2. Your lights are on but you're not home
3. Take your passion and make it happen

4. That little faggot he's a millionaire

5. I was wrong, now I find just one thing makes me forget
6. So if you're feeling low, turn up your radio
7. It's no better to be safe than sorry

8. Darlin' in my wildest dreams I never thought I'd go
9. The road is long, there are mountains in your way
10. The Salvation Army band played and the children drank lemonade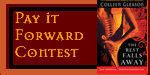 (notice I did resist the urge to post a pic of Sting again...I could have, too--quite legitimately!)
And don't forget to enter the
Pay it Forward
contest. You have until Friday at midnight!