I can now add "Piano Mover" to my repertoire...
I'm sure you're all delighted and astonished to know that, yes, I can now say I've moved pianos.
It's quite an art, really. Have you ever seen anyone move a grand piano? It's really very interesting, breathtaking, and yet frightening--especially when it's your dear husband under the big thing.
But let me back up.
When I first met my Music Man, he was trying to find himself after five years of working as an engineer. (If you know anything about my MM, you'd know that having him sit at a computer station all day, every day, on a certain schedule, in the midst of corporate politics, just isn't him. I shudder to think of it!)
Anyway, he was trying to "find" himself and one of the things he did when we first met was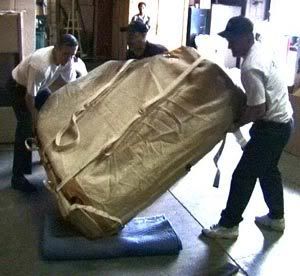 move pianos for almost a year. He worked with a big guy named Jimbo, and they were perfectly suited to work together: they read each other's minds, and that made moving those big instruments a piece of cake. Jimbo taught my guy everything he knew.
For awhile, my MM owned a grand piano (are you starting to see where the moniker comes from?) that he leased out to musicians when they visited Philadelphia (where we lived at the time)--for jazz fests, for example, or other traveling musicians (such as the late, great Warren Zevon).
Once, during their heyday, Wilson Phillips leased the piano and he had to bring it to a small little studio where they were rehearsing. We got to sit in on a very impromptu and extremely intimate session with the gals--my big brush with fame! Woohoo!
Anyway, this long story's getting really out of hand, but suffice to say that Music Man has lots of experience moving the big instruments. And one time, he moved our grand piano by himself.
When a grand is moved, in case you aren't aware, its legs are removed and it's tipped onto its side--the straight side opposite that curved one, so that the curved one is toward the ceiling. And it's put on the little piano dolley that they use to relocate the instrument.
For me, it was a combination of horror and total turn-on. I kept waiting for the darn thing to crash over to one side, yet I couldn't look away, 'cause there were a lot of bulging muscles and interesting grimacing going on.
And of course, I could do little but stand there and gape. He moved it out of the little house we lived in (fortunately, there weren't any stairs) and onto a big truck. All by himself.
So, here we are, more than fifteen years later, and while he doesn't move pianos very often, because he's a Music Man, sometimes he gets into a situation where a piano has to be moved...and, well, since he considers himself the best mover in the business (no confidence problems there!), he often manages the move.
Last night, a last-minute move came up and he called to see if I would help since he couldn't get ahold of his regular helper. I nearly fell off my chair, but, since I'd been procrastinating on my own work, I seized the opportunity.
My payment, he said, would be dinner out. I was delighted (you all know how much I love to eat out), yet more than a bit frightened.
What if the darn thing fell on me and broke my fingers so I couldn't type?
Anyway, it was a piece of cake. Couldn't have been an easier move (thank goodness). First of all, it wasn't a grand, and secondly, it was a smallish little upright.
I did very little but move wadded-up blankets around so they'd be in the right position when he lowered the piano to the ground/floor/sidewalk, etc. Although I did help to push it up a little ramp over the front steps of the house.
He snapped out orders to me (admitting later that he realized I
wasn't Jimbo, but I was at least a lot prettier than he was~and I provided fringe benefits he never got from Jimbo), and I managed to get through the move with nary a scratch or broken nail.
And, the lady whose house we moved it to was delighted to hear I was an author (when I wasn't moving pianos), and she can't wait for my book to come out.
And then the Music Man took me to dinner. What more could a girl ask for?