Wow...what a week
I've been watching the entries in my
Pay it Forward Contest
add up over the last week, and I'm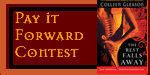 just blown away by the wonderful things you've been doing.
I wanted to share some of the stories people have told, and remind you that
today is your last chance to enter
the contest to win a Venator Survival Kit, which includes a pre-release copy of
The Rest Falls Away
.
Here are some (unfortunately, I can't share all) of the comments I've received about paying it forward
:


"T

oday, I helped entertain and calm a crying baby at Walmart so her stressed mother could load her cart and pay for her items. She was thankful, but I think I got the better end of the deal. Her baby was a doll with a cute giggle."
"Let's see ~ I let a lady go in front of me at Walmart. This poor old woman had 2 things in her shopping cart ~ the lines were as per usual this time of year. I could not believe that anyone wouldn't let her go in front of them. So, friend and I had two carts full of things (we're getting ready for a big bake-off) so I actually went and got her and walked her back to our line so she could go in front of us. I mean ~ she had two items; we had two carts. It's really a no-brainer, isn't it?"



"The kind deed I did today was to carry a load of personnel files downstairs to HR for one of the directors at my work who is not in my area. I thought that she deserved a break (we're in the middle of a big audit), so I took this duty off her hands."


"[I] gave a jacket away to a boy selling something on the street. Actually did this with mom since we drove by and saw said boy and figured he needed a jacket."


"[I] gave money to a friend who barely had so she could pay her rent and buy some food. Also gave said friend tons of food. No, we are not rich, trust me on that, but man did she need it way more than we did. The woman had nothing to eat and wasn't getting paid for two whole weeks!"


"My good neighbour and friend recently lost her long time best friend. About a week after the funeral, while she was trying to cope with that loss, she received news that her Mother had gone missing. Soon after, she received news that her Mother killed herself. She told me yesterday, at the mail box....the two of us standing there, me comforting her as she sobbed.



"She needs some serious healing right now, and I know that material things won't do it, but I am going to bring her a poinsetta, and hope that somewhere in herself she can find a comforting place."




"Yesterday I was Christmas shopping with my 21 yo old daughter and we wear talking about some of her friends with kids. Now I'm an adopted grandma to a 3yo little boy whom I adore so kids are a weakness of mine. Well a couple of her friends don't make much and have babies and toddlers so I bought clothes for all of them. People in my life did it for me when I was broke so I can do the same for them."


"My first deed for the day. Driving to work in a sudden snow squall and the traffic was horrendous. I was sitting in a line of traffic thinking about Paul, dogs, work and blogging when I remembered the pay it forward. I decided to let a bunch of people out of the side street in front of me. They had been sitting there trying to get onto the road for a while. The traffic behind me didn't love me but those folks did."


"Today my son and I were at the grocey store and when we where leaving an ederly women we see there alot was having a problem pushing her cart so I offered to push it for her.

"My 3 yr old son got a 5 dollar tip so we went to Mcdonald's I bought him a small fry and bought the person behind us lunch. "


"Last night my colleague called and told me her husband had to go to a family members funeral, and asked me what the procedure was for missing out on exam day (we're teachers, so this is serious business). Even though I had the morning off because I wrote the exams, I told her not to worry, I would do her first exam and take care of getting everything covered for her with the office so she could go be with her husband."


"A neighbor with a new baby looked like her older child was working on her last nerve. So invited said child over to play with my kids and baked chocolate chip cookies with them. When the child left she took a plate of those back to the other mommy."


"I let the lady with one baby and three toddlers in tow in front of me at McDonald's on my lunch "minute" even though I knew her kids would take forever deciding nugget or burger."


"My daughter is in piano classes that she attends once a week. Her piano teacher is a lovely woman and my daughter just loves her. She's one of these people that talks so much she pretty much annoys any adults that happen to be around her though. The only thing that she does for income is teach piano. She doesn't have any type of contracts.

"The winter time is difficult (especially in the snow and cold) to make the weekly classes. We had considered pulling our daughter from class until the Spring. Before I could talk to the piano teacher - she called me. Just two weeks ago she discovered that she has a lump in her breast and they are fast tracking her into surgery. The piano teacher was positive but I knew she was upset. She was also worried about her family. The piano classes are all she has. She was afraid that parents might pull their students if they found out she was sick.

"I told her that I would continue to pay her every month - whether she was well enough to teach the class or whether or not our daughter made it to class because of the weather. The next day I sent her the pay to cover the next 5 weeks of classes."


"Took my money for a fancy cup of coffee, and instead put it into the charity donation box not far away from the cafe."


"I try to live my life by the "paying it forward" method. ( I stay with my grams during the week- do her housecleaning and grocery shopping, I always look for opportunities to put myself second, give a secret donation of money to people I think need it over the holiday season ... things like that)

"In fact I encourage my bf to do the same, (he wasn't raised to think like that as I was), and jus the other week he surprised me. He had this old truck he decided to get rid of. One night a man stopped by his house seeing the for sale sign. The man was from a slovic country, and had left his country to avoid being forced into the army once again- he was brutalized that last time he was forced to serve. (BF said his nose had obviously been broken and his some of his fingers were at odd angles.) Anyway, the man had very little money, and was about to leave after hearing bf's asking price. I guess bf has been listening to me- he sold the guy the truck for $60. (I'm so proud of him!) "


"I have me husband getting the act too.lol His Boy Scout troop went out in the cold last night and haned out Hot coco and cookies, with no planning for no reason. I'm a proud wife."


"There was a lady in front of me in the supermarket and she was short ten dollars so as she went to go put something back, i gave the cashier twenty bucks and told her not to tell the lady i had done it. The woman was very grateful and never found out it was me :)"
There are lots more, but I wanted to share as many as I could!
Thank you so much for participating and for making others' lives a little better! I wish I could give all of you prizes...but I suspect that you're not really doing this for the prize, are you?
Anyway, remember, you have until midnight EST to enter the official contest.
Have a great day!
Labels: Contest, Pay It Forward Contest