Thursday Thirteen #13
Pay It Forward


(and get a chance to win a copy of my book!)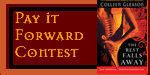 Click the image above to read about my Pay it Forward Contest and how you can be eligible to win a copy of my January release...along with some other fun things!
(please don't post your contest entries on this post)


Contest ends Friday at midnight, EST



1. Drive past the really good parking place so the car behind you can have it.


2. Pay for the person's order in line behind you at the drive-thru window


3. Drop off two toys, instead of one, at Toys for Tots


4. Make a few extra batches of cookies and bring them to a local senior home


5. Find a family to adopt for the holidays


6. Buy an extra roll of stamps and give it to the person in line behind you at the post office
7. Offer to babysit (for free) for a mother of young children so she can go shopping or wrap gifts...or just take a breather!


8. Bring a box of your old books to a women's shelter


9. Give a 30% tip at a restaurant instead of 15-20%


10. Make a donation to your favorite charity before they even ask!


11. Buy a bag of groceries and take it to your local food bank
(they're really hurting this year!)


12. Donate blood


13. Let someone in line behind you go first at the checkout counter

(and check out the other comments on my Pay It Forward Contest post to see what others are doing to make the holidays easier!)

The purpose of the meme is to get to know everyone who participates a little bit better every Thursday. Visiting fellow Thirteeners is encouraged! If you participate, leave the link to your Thirteen in others comments. It's easy, and fun! Be sure to update your Thirteen with links that are left for you, as well! I will link to everyone who participates and leaves a link to their 13 things. Trackbacks, pings, comment links accepted!
View More Thursday Thirteen Participants