Because Diana tagged me: Christmas Meme
I'm taking a break from encouraging everyone to Pay it Forward
for a chance to w
in
a Venator Survival Kit (enter by midnight Friday!) to complete this meme that the amazingly-talented, witty, gorgeous and charming
Diana Peterfreund
tagged me to do.
(She said I needed to find something to do other than to fondle my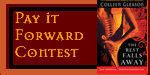 new book...)
So, without further ado:
1. Egg Nog or Hot Chocolate? Hot chocolate! Definitely.

2. Does Santa wrap presents or just set them under the tree? Wraps'em. All of'em. For weeks on end. Wraps and wraps and wraps. (Or so it seems.)

3. Colored lights on tree/house or white? White on house, colored on tree

4. Do you hang mistletoe? No...I don't need to. ;-)

5. When do you put your decorations up? The weekend before Christmas.

6. What is your favorite holiday dish? Nothing in particular...I like it all! I figure the holiday is an excuse to eat whatever I want, in amounts that I normally would not.

7. Favorite Holiday memory as a child: Going to Midnight Mass with big, fat snowflakes swirling down in from a moonlit sky.

8. When and how did you learn the truth about Santa? I don't remember. It wasn't traumatic at all; I remember having a casual conversation with my mom about it.

9. Do you open a gift on Christmas Eve? One gift--pajamas for the kids. It's a family tradition that started when my grandmother used to make us all pjs every year for Christmas, that way we were all wearing them when we woke up in the morning!

10. How do you decorate your Christmas Tree? Ha ha! Well, since we have three kids, it's rather haphazard. I string the lights after Music Man trims up the tree and puts it in its stand, and then it's a free-for-all. Very random. But fun!

11. Snow! Love it or Dread it? I love it through Christmas, and all the time except when I have to drive in it.

12. Can you ice skate? Sort of. We live on a lake. Every year I get a chance to get a little better. I'm just learning how to skate backwards.

13. What's the most important thing about the Holidays for you?

The Reason for the Season.
15. What is your favorite Holiday Dessert? I have too many to name! But cranberry cheesecake is probably up near the top.

16. What is your favorite holiday tradition? Lazing around all day on Christmas after the whirlwind of getting ready for the holidays...we take our time opening gifts, often stopping to play a game or watch a movie or assemble a toy or eat. Often we don't finish until well after 4 pm on Christmas Day, even opening the gifts from Santa. And then we put in the LOTR trilogy to watch while the kids play with their new toys. It's just the five of us, and we know we have nothing to do and nowhere to go but enjoy the day and be together.

17. What tops your tree? An angel.

18. Which do you prefer: giving or receiving? Ummm...giving. Really. As I've gotten older, I've realized it really is true.

19. What is your favorite Christmas Song? O Holy Night, Sleigh Ride, and What're You Doing New Year's Eve are my favorites, but my all-time fave is William the Angel by Rob Mathes.
20. Candy Canes! Yuck or Yum? Yuck.