My geeky crush
I've been watching
Frasier
on DVD for the last few months, and am just blown away by how good the show is, especially those first four or five seasons. (It did, of course, jump the shark, but I'm not to that point yet and am still really enjoying it.)
For me, the highlight is Niles. I've got a major crush on him and it embarrasses the heck out of me, but there it is. He's just so cute in a wide-eyed, effeminate, fussy way.
His little hops and skips...his goggle-eyes at Daphne...his affected sneer...that cleft chin.
I'm crushing!
Before he and Daphne got together, their interactions were the highlight of the show. Maybe it's the nerdy geekiness that gets to me...that unending hope he has...
Remember these little gems...?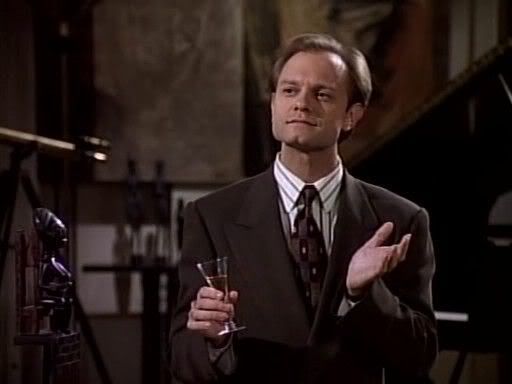 Niles:

Oh dear. I've zipped my tie into your dress.


Frasier:

Niles, there's something on your tie.


Daphne:

I was just about to step right out of this dress and embarrass poor Dr Crane to death.


Niles:

Well, we all have to die of something.


Niles:

You're a very special person, and someday a man worthy of you will come along, just as soon as the gods create him.


Daphne:

And you don't know who it will be. You could be standing next to a person month after month, and then the next thing you know you're tearing each other's clothes off. There's a word for it.


Niles

(who stared at her through the whole speech)

: Hope.



Niles, (demonstrating word-association):

Crescent. Moon. Daphne Moon. French maid. Brass Bed. Satin room.


Frasier:

This is my dream.


Niles:

I was just showing you the process.


Frasier:

You were three words away from a cigarette.

I never saw the seasons where they actually got together, and I may not ever do so, for obvious reasons.
Anyway, there: I've confessed my geeky crush.
So, who's yours?