My new favorite candy bar.
The cool thing about having three kids (well, one of the cool things) around Halloween is that, as Mom, I get to dig through their loot and--er--claim certain items.
It used to be I got most of the Reese's peanut butter cups. Now I can take or leave them (unless they're in a DQ blizzard) and I prefer Almond Joys, when I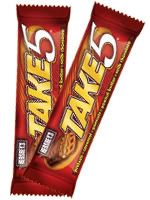 can get them away from my oldest daughter.
But! Last night, I found a new favorite. I'd never heard or seen of it before, but let me tell you, it's on top of my list now.
It's Hershey's
Take 5
.
Pretzels, caramel, peanuts, peanut butter and chocolate! Holy crap--how can you go wrong??? It's a PMSer's dream!
Unfortunately, only one of my three darlings got one.
Fortunately, it was a large size.
Unfortunately...it's gone.