Thursday Thirteen #8

Thirteen Things Cluttering My Desk
While I'm Trying to Write My Next Book


1. Five Empty bottles of Faygo Sparkling Water
(grapefruit or orange)
Since I gave up Diet Coke a year ago, I've taken to drinking liter-sized
bottles of Faygo sparkling water.
No sugar, no calories, just water with a hint of citrus flavor.


2. A stack of scrapbook paper in fall patterns that I will probably never use,
but couldn't pass it up when it was
on clearance at Jo-Ann Etc.


3. A bottle of Vampire wine my friend Binger bought for me
(eek! see the clutter behind it?)
4. A small plastic container of binder clips in hot pink, aqua, tangerine, and white
5. My Gardella "Bible"

A binder that grows by the day, it seems, with all of my
ideas and research. Right now it's open to a page about
the Roman Colosseum in the 19th century.


6. A stake for hunting vampires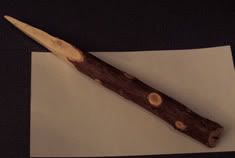 7. This absolutely adorable, beautiful wooden bat bead sent to me by my friend Anne Mallory
in honor of my vampire books
(who, incidentally, has a brand new book out called
The Earl of My Dreams
....
better go check it out if you want
a hot romance in Regency England!)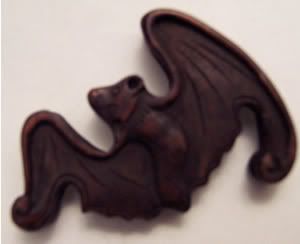 8. The 1247-page
The Count of Monte Cristo
book, pages flagged with color-coded tabs for easy reference

(

You might recall

, I'm writing a follow up to my Phantom erotica by
twisting the Monte Cristo story in a similar fashion)

9. Pens, pens, and more pens


10. My Cell Phone
11. A printed out email from my agent telling me that

The Rest Falls Away

is going to be published in Italy!


12. My beautiful handmade, mahogany colored wooden pen given to me by my friends Wendy, Diana, and Jana on the occasion of my first book contract

(I use this pen to sign all of my contracts, and will also take it to booksignings)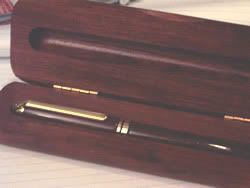 13.
A beautiful envelope opener, complete with lavender flowers in relief, also given to me by a friend in honor of my books

(Esri, the friend who bought it for me, said it reminded her of the vampire-slaying stakes that Victoria uses in
The Rest Falls Away
)

Don't I have the greatest friends?



The purpose of the meme is to get to know everyone who participates a little bit better every Thursday. Visiting fellow Thirteeners is encouraged! If you participate, leave the link to your Thirteen in others comments. It's easy, and fun! Be sure to update your Thirteen with links that are left for you, as well! I will link to everyone who participates and leaves a link to their 13 things. Trackbacks, pings, comment links accepted!

View More Thursday Thirteen Participants