Retro Tuesday: '80s Female Musicians
How about a quiz about female recording artists from the '80s, I thought to myself when I woke up at 4:00 this morning.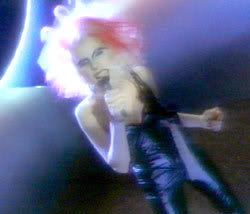 Since I couldn't go back to sleep, I thought I'd give it a shot. So here goes....
1. What famous indie artist was once the lead singer for 'Til Tuesday?
(earworm of the day:
"hush, hush...keep it down now, voices carry...."
)
2. Which famous '80s recording artist began her career as an opera singer?
3. Which female artist sang the theme song for PeeWee's Playhouse?
4. Who was the lead singer for Missing Persons?
5. Who played an unknown dancer on the TV spin-off of
Fame
before she made it big as a musician?
6. Joan Jett was signed to her first recording contract under the name Joan Jett and _____? Bonus question: How old was she?
7. In Toni Basil's video for "Mickey," what school was represented by her cheerleading uniform?
8. In 1984, Van Halen released an album called...
1984
. (Clever, huh?) What other band fronted by a female released an album of the same name?
9. Prince wrote a song that was made famous by an all-female band. Name the song and the band. (Bonus: what other female singer had a smash hit in 1990 which was also written by Prince?)
10. What was the name of Madonna's first band?
Answers posted later today!