Busy, busy, busy
I've been so busy the last few days getting ready for our annual family road trip to the Upper Peninsula of Michigan (the U.P. as the natives call it), I haven't had time to think about updating the blog.
Well, I've thought about it, but haven't done it. I'm trying to focus on getting as much of my book finished before leaving, plus laundry, cleaning out the van, cleaning the house, and all the other stuff you know that has to be done before we leave.
We leave tomorrow for a week, and it's a 9-hour road trip, with three kids, a husband, and a dog. I'm so looking forward to it.
Actually, I am. I've been traveling to the UP since I was born, every summer, to visit my grandma and grandpa, and every year when I leave, I wonder if it will be the last time I'll see them. My grandma turned 90 on July 21st, and my grandpa will be 89 in August.
This is my maternal grandmother that we're visiting, and although we've always lived at least 9 or 10 hours apart, she's played a special role in my life. A wonderful seamstress, she used to make us pajames every Christmas when we were younger. (I still have the last flannel nightgown she made for me...and I still wear it.)
She also made my prom dress for my senior prom...it was a lovely evening gown with a plum satin overskirt that merged up into a boned, strapless bodice. In the back, the satin overskirt split up the middle to the back of my waist and under it was frothy lavender lace. I wish I had scanned my photos so I could show you all a picture of it. It was gorgeous!
Then, when I got married, my grandmother and my mother made my wedding dress. I helped too, just a little ('cause I can't sew--too impatient). My mother and I had gone to try on dresses all over until we found the one I wanted. Then my mom took careful notice of the design, fabric, etc., and she and my grandmother made the dress exactly as it appeared in the store. My job was to sew little tiny pink satin "centers" into the rosettes of the Alencon lace that covered the entire dress--which was a simple sheath with a super-long cathedral train, made only of Alencon lace. It was beautiful.
When I was pregnant with my first child, the very first piece of clothing I got for her came just weeks after I announced the pregnancy. My grandmother, at that time 80 years old, had sewn and then hand-embroidered little flowers, birds, bees, and hearts all over this little precious jacket. I cried.
(It's a really blurry picture, but the only one I have with me and the kids and my grandma.)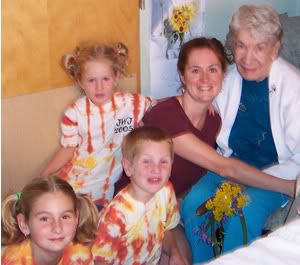 Now my grandma lives in a skilled nursing facility attached to the hospital in the town she's from. She's actually happier than she's been in years, though her memory is more than quirky--which is the reason she had to move in there. Her husband, my grandfather, still lives in the house they've always lived in. He is another story, and he deserves a post all his own...but I'll save that for when I get back.
Anyway, I'm looking forward to the trip, but at the same time, I know that as we leave to come home, I'll cry as I always have, wondering if it's the last time I'll see one or both of them.