Good-bye, Bo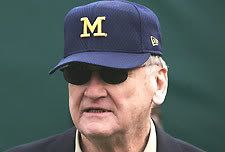 Legendary University of Michigan football coach Bo Schembechler died today.
He was still coaching when I attended Michigan, and he looks just like my grandfather, so I loved him even more for staying at Michigan for so long, even when other offers came in.
What a legend. We'll all be thinking of him tomorrow when Michigan meets up with OSU for the Big Game.
Watch over our guys, Bo!
Edited to add:
This
link
to a wonderful, moving eulogy. If you don't know who Bo is, read it. Even if you do, read it.