The Things I do for my Daughter (or, Movies Lie)
My daughter turned 10 yesterday, and of course, we had to have the requisite birthday party. (I'm thinking of making a moratorium on birthday parties now that she's in double digits...)
She had it in her head that she wanted to replicate the scene in
The Princess Diaries
where Mia and her mother throw darts at paint-filled balloons to create a piece of modern art. My Music Man and I tried to explain to her that what you see in the movies isn't always...well, accurate...especially if it looks as simple as that did.
However, wonderful mother that I am, I agree to help her get it set up.
The problem was....how to get the paint into the balloons. And then, since I didn't want to fill the balloons up completely (too much paint), and if they weren't expanded enough, they wouldn't pop, I figured we had to put air in as well.
After much consideration, we decided to use a cut-off straw to pour the paint into the balloons (which were very small). We filled the balloons only about one-fifth with paint, and then took the straw out, and after wiping the paint off the edges, I blew up the balloons.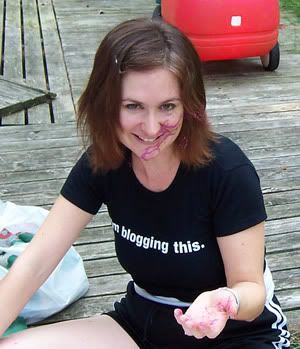 It worked perfectly until one of them popped in my face.
Not only did it get on my face, my lashes, in my hair, and on my teeth...but also all over my "I'm blogging this" t-shirt (which was, of course, accurate)...and it was at that moment that one of my daughter's friends (and her mother) showed up and walked around the corner.
(After she stopped laughing, she took the picture for me.)
And so I was a lot more careful after that, and only one other balloon popped in my face.
Things I learned from this experience:
Paint doesn't come out of t-shirts
Acrylic paint doesn't taste very good
You can't wash acrylic paint off your soft contact lenses
Pink acrylic paint works great as mascara...if you can get it on without getting in on your contacts
Kids are fun.