Five Years Ago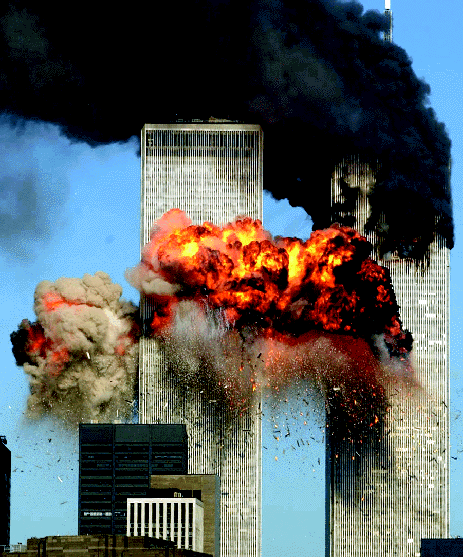 I was home on maternity leave with my youngest child. My two oldest were at school, and I was cleaning up around the kitchen. I had NPR on in the background, but wasn't really listening.
It was about 8:35 am. The phone rang, and it was our new au pair, a young woman from Austria, who had arrived in New York the day before and, after orientation, would be flying to us that Friday to watch our children when I returned to work the next week.
We talked briefly and I hung up the phone. All was well.
As I was working in the kitchen, I heard something on the radio about a tower, and then something else that led me to believe they were talking about an attack on the West Bank; but I didn't really hear the story.
A few minutes later, probably around 9:00, I remembered I needed to talk to my sister, who worked in Manhattan at the time. I dialed her cell phone, and when she answered, I said, "Hey! What's up?"
There was a brief silence, then she said, "Uh...haven't you heard?"
"Nnn-no...what?" I replied cautiously, alarmed by the tone of her voice.
And then she told me. And I rushed to the radio to turn it up, and there it was.
I called my husband immediately after, and he had just been watching the news on television at a customer's house.
One of the things I remember in particular that really struck me was the sound of Bob Edwards on NPR's Morning Edition saying, in a very un-Bob-Edwards, very emotional voice, practically yelling, "Oh my God, the tower's coming down! It's coming down!"
Where were you?