A visit with Mickey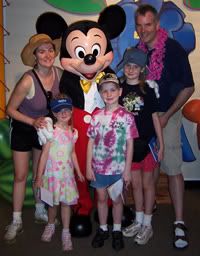 I'm behind on my postings here because we were down in Florida visiting a very special mouse.
We had a great time: the weather was wonderful, the crowds weren't bad at all, and I'm the consummate Disney-World-Planning person.
In fact, if you hoo over to the
WNP blog
, you'll find my Ten Tips for making the Disney trip smooth and fun!
Here we are with our faces painted: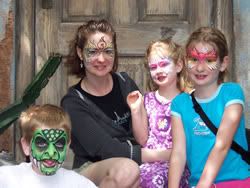 And here are the famous cornrow-wannabes that I did for my daughters before we left. Eighteen braids later (ten for the older, eight for the younger), my fingers were cramping! They lasted for about three days, though, and we got lots of compliments on them from everyone!