Road trip to Taize
Up bright and early on Tuesday morning, we took the Metro to Avis (pronounced "Ah-vis" by our French friends) and picked up our car. I didn't take a picture of it, but it was a nice Renault Laguna, large enough for my Music Man's long legs.
With not one wrong turn, and very little shouting, we made our way out of Paris by 7:15, missing rush hour, and getting on the A6 highway to head toward Lyon.
It was, of course, misting and raining, and as we were driving along the highway, Music Man started fumbling around for the windshield wipers. He found the switch, but it only seemed to control the rear window wipers.
And then all of a sudden, the front wipers came on. They were automatic, and sensed the amount of precipitation and adjusted themselves accordingly. We thought that was cool.
So for the first ninety minutes of our road trip, we thought we were in Ohio. The terrain looked just like the flat farmlands of Ohio.
Then it started getting interesting, as we entered the Bourgnogne Region, with sweeping hills and valleys, and acres upon acres of farmland. All of the buildings were old stone, in clusters, surrounded by just as old stone fences.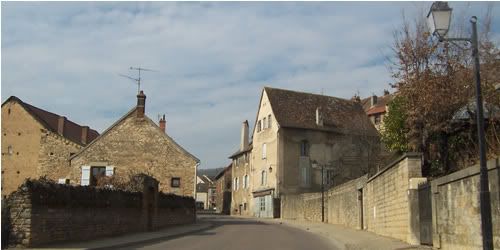 The medieval historian in me perked right up when we saw a fabulous castle on a hill. (Music Man wouldn't stop; we were on his mission for the day.)
At last we left the highway (where we'd been traveling about 145 km/h) and got to drive on the narrow, winding roads through the villages of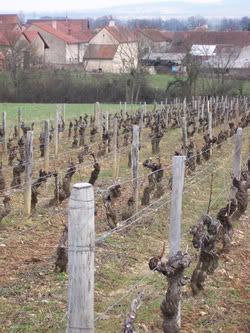 creamy stone buildings and forlorn-looking vineyards.
We drove through the village of Buxy (does anyone know how to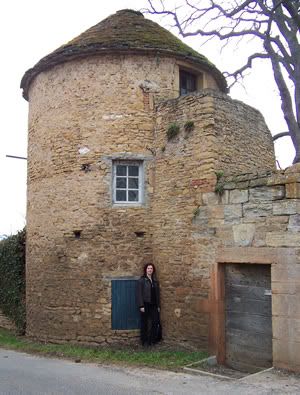 pronounce this word?), which was adorable with its narrow, curving streets and shops; and then through Sercy, which boasted another wonderful castle (although not of the medieval sort; this one looked more like an overblown chateau)
.
(I posted that picture up higher.)
At around 11:00, almost exactly four hours after we left Paris, we arrived in the small community of Taize.
As I mentioned, this was the leg of the research trip that Music Man was directing; it was his day. We were visiting Taize because they are known for a particular meditative style of Christian prayer, and he had various reasons for wanting to experience it himself.
The town was lovely, and it was sunny and relatively warm while we were here--about 60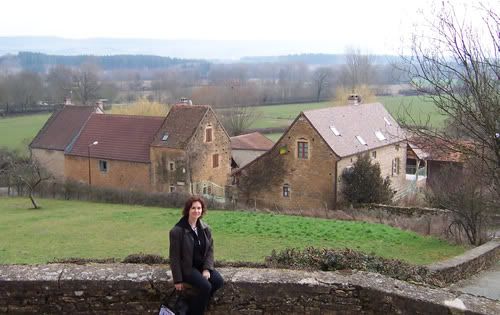 degrees. We spent about four hours in Taize, then drove back to Buxy (still wondering how to pronounce it!) and tried to get something to eat.
Of course, it was about 3:30 at that time, and no one was serving food. However, in the little pub, I managed to use my very limited, but apparently adequate, French to order what became one of my favorite French mainstays while we were there: a Croque Monsieur, which is basically a fancy name for grilled ham and cheese. However, the French add a generous helping of cheese on top of the sandwich and get it all melted and bubbly and brown.
For the two of us, who were starving, it was heaven. I also tried my first
kir
at that pub--a glass of white wine with a shot of blackberry syrup. Yum.
We arrived back in Paris, and made our way back to "Ah-vis" with only one wrong turn, by 8:00.
By then, we were ready to eat again, so we walked half a block to the St. Germain, which was a great little cafe that became our favorite place to eat while we were there.
It was convenient, the people were very friendly, the food was good, the wine was better, and Music Man was very pleased with the selection of
pressiones
(beer on tap)...and the music selection included James Blunt. What more could we ask for?
We had a platter of cheese and bread, and our drinks. Lovely way to end a long day.
But tomorrow...we were to be up and at'em for my favorite leg of the journey: the visit to the Opera Garnier!