Autumn rain...makes me feel fine
I walked outside after a meeting this morning and it was gorgeous.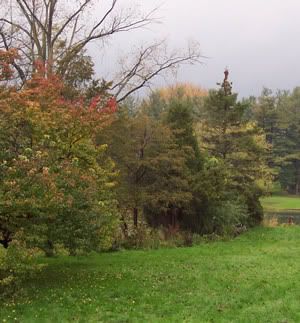 It had been raining, a nice, gentle but solid rain, all morning, but it had just stopped, so the air was damp and clean and crisp. The sky is light grey and cloudy and the leaves are absolutely brilliant.
I stood there and drew in a deep breath and just
felt
and
basked
.
Ever get those moments? Not just stopping to smell the roses, but stopping to enjoy something that isn't obviously perfect or beautiful?
Roses are easy--they smell amazing, they're masses of velvet petals all unfurled in a pleasing way. A sunny day is easy too--a warm brilliant blaze, or, in the winter, an eye-stunning blast of bright.
But rain? Walking to your car in the rain? Yep. Stop and smell the rain.
I think everything about nature is beautiful, even when it's ferocious (blizzards) or damaging (hurricanes, tsunamis) or frightening (arachnoids, snakes), inconvenient (rain without an umbrella anyone?) or gloomy (raining and cloudy).
Just had to share. I loved the weather today.
(The pics are from my backyard.)