Lusting for the 21st Century
In case you haven't picked up on it by now, I'm a historical novelist.
All six of my to-be-published books are set in the 19th century, in various locations in Europe. As of this moment, I have no plans in the near future to write anything set in contemporary times.
I love writing historicals. I've always read novels set in different time periods--my favorites being Plantagenet England, 19th-century Europe, and the settling of the American West.
There are wonderful benefits to writing historical novels when it comes to plotting.
1. There aren't any cell phones, or even telephones--so there can be communication glitches that make it harder for the protagonists to get things done.
2. No cars or airplanes, so travel isn't quite as timely or quick when you're trying to get from London to Rome.
3. I don't have to worry about Uzis or automatic weapons or internet viruses.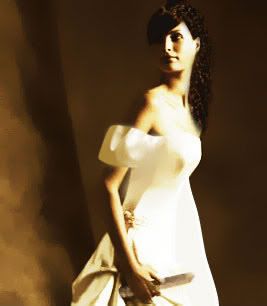 4. The strictures of Society and culture in historical time periods often lend difficulties to the protagonists, which I, of course, use to my advantage.
For example, one of Victoria's (the protagonist in
The Rest Falls Away
) biggest problems is how to get out on the streets at night to stake vampires when she can't even talk to a man unless she's been introduced first.
And where she's going to keep her stake, dressed in long, light and airy gowns that don't have pockets, sleeves, or belts.
5. And I love finding out about interesting tidbits of history and incorporating them into the story.
For example, in the second Gardella book,
Rises the Night
, I bring John Polidori into the story. He was the first person to write a vampire novel portraying the undead as aristocratic, handsome, and mysterious--even before Bram Stoker--and thus it was, in some way, a tongue in cheek nod that he's actually a character in my book.
However. There are times.
There are times when I really wish I could dress Victoria in CFM boots, or a mini-skirt.
Or that I could give her a cell phone so she can call for backup.
I would really like her to be able to make pop culture references: quote the Beatles or liken a given situation to a scene in Buffy the Vampire Slayer, or Star Wars, or Lord of the Rings, or whatever.
And when I write historical novels, my author voice is different. It's less breezy and snarky (although there is breeze and snark in small doses), more rhythmic and lyrical--not stilted, not filled with passages of descriptions (heavens no!), but different.
So there are moments when I really long to put Victoria in a pair of stilettos and suede jeans that will knock the Marquess of Rockley's socks off...except that he doesn't wear socks. He wears breeches and stockings!
So, for now, I wouldn't trade my situation for anything...but once in awhile, that grass in the 21st century looks a little bit greener than it does in Regency England.
Savvy?