I was shockingly brave today.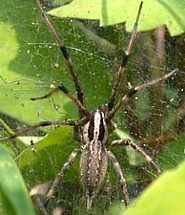 I am a serious arachnophobe.
My earliest memory is when I was two or three, and I woke up in the middle of the night and looked under my pillow. There was a spider the size of my pillow there, and I ran downstairs to be comforted by my parents.
That might have been a dream, but something else must have scared the crap out of me because when we moved into a new house when I was about four, I refused to sleep in my new room because I'd seen a spider in there. I called it "the Spider Room" for a long time.
I get nauseated when I look at pictures of spiders (including the one on this post). The few times a spider has been in my car and made itself known while I was driving (can you say heart attack?), I nearly ran off the road trying to get away from it.
My husband has become used to "saving" me from spiders in the shower or in our bedroom. (We live on a lake, so there are plenty of them.)
And as for the scenes in
Harry Potter & the Chamber of Secrets
and
Return of the King
with the big spiders...I can't watch. I get sick to my stomach.
I'm not squeamish about anything else: mice, snakes, frogs, crawfish, toads--you name it. Nothing else bothers me. I'll gleefully catch frogs, toads, turtles, crawfish...and I'll eagerly pet or hold a snake that someone else has caught...but no spiders. Thank you.
So, today. I had just put my youngest daughter to bed and I was alone in the house. I walked into the living room, ready to sit down and have a big cup of tea and relax...and what do I see on the middle of the wall.
(See picture.)
I can't ignore it. It's shoulder level. In the middle of a light-colored wall.
It could crawl on me!
Maybe it's not a spider. Maybe it's a June bug (no matter that it's October and the June bugs have been gone since, well, June). Maybe it's one of those big mosquito bugs. Or even a Daddy-long legs. (Those don't bother me. Too much.)
No. No sirree. It's a big fat Funnel Weave Spider (I only know the name because I Googled it to find a picture). And it must be a pretty tough one, 'cause it's only got 6.5 legs. And it's about three inches from leg to leg.
Yeah. I got close enough to look at it.
Shiver.
Anyway, I hate spiders--in my house, at least. But even worse is the feel/sound of smashing them when they're big like this. That's enough to make me want to toss my cookies right there. So I have little choice. I'm not going to let it be in my living room, where I'm ready to relax.
I'm not going to knock it to the floor so I can step on it, 1) because I would have to feel it smash under my shoe, and 2)
it might crawl on me when I'm knocking it down
!!
Shiver.
So, I find a paper bag. I open it really big. Swallowing back the nausea, I walk up to the wall, place the bag below the spider (fingers very clear of the edges so it can't possibly touch me/crawl on me) and, using an old magazine, knock Spidey into the bag.
Quickly! I close up the bag.
I run to the back door, open it and, feeling the spider crawling frantically around inside the bag, its legs pounding on the flimsy paper walls, trying to force its way out onto my hands and up my arms...
I throw the bag onto the deck, and run back inside, feeling oh so squicky and crawly and creeped out.
But then.
You see, I love spiders. When I can't see them and when they aren't in my house. Because, of course, there's Charlotte. And also the fact that they, like bats, eat pests.
So I didn't want Spidey stuck in the bag.
So, I creep back outside, warily watching the bag. It's not moving. The closed up end isn't open. I gingerly pick up the bag, quickly, unsteadily unfurl the edges of the bag just enough so it's slightly open, and toss it back onto the deck--this takes all of five seconds--and I run safely back into the house.
Whew. I'm safe, and Spidey can live to catch a mosquito another day!