Retro Tuesday: '80s TV Movie Heart Throbs
When I was doing my poll about classic stories a few weeks ago, I got to thinking about
The Scarlet Pimpernel
, and the movie version I'd seen back in the Glory Days (the '80s), and so I put it near the top of my Netflix queue.
My Music Man and I watched it the other night, and thoroughly enjoyed it. While he was admiring the young Jane Seymour (who, of course, played Marguerite), I was getting an eyeful of Anthony Andrews.
Anyone remember him? He did a fabulous job as Sir Percy Blakeney, but his most famous role was that of Sebastian in
Brideshead Revisited
. He also went on to play Ivanhoe in the TV movie version of that classic.
Mr. Andrews is still tapped for TV movies. In 2000, he played Mr. Murdstone in
David Copperfield
(I believe it was a BBC or A&E version), and he was cast as Dr. Moriarty in a version of Sherlock Holmes in the 90s.
That got me to thinking of other TV-movie heartthrobs. They seem to be breed of their own, don't they? They don't usually get very far beyond their television movies, at least as far as acting goes.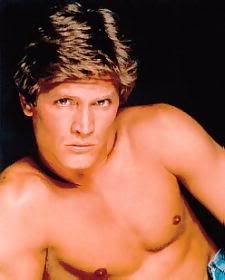 There was Andrew Stevens, too, who at the time I liked better than Anthony Andrews. Stevens played Philip Kent in the TV versions of
The Bastar
d and
The Rebel
.
Speaking of which, weren't those great books? I read them first in 8th grade, but reread them again when I was in high school and taking American History...and wow, did they all make so much sense at that point!
I reread them again in college, and I think I'm about due to read them again. I loved those family sagas (Belva Plain, John Jakes, the Wagons West series, and of course, my all-time favorite: Roberta Gellis's Roselynde Chronicles). I wish they'd come back. My favorite character in the whole Kent Family Chronicles was Gideon Kent in
The Americans
. I would have liked to see a movie of that one!
Anyway, as far as TV movie heartthrobs go, I can only think of one who made it beyond the small screen flick to the big screen. There may be
others, but the one who comes to mind for me is Orry Main, from
North & South
--Patrick Swayze.
Any others you can think of? Who do you remember as one of those '80s TV movie stars?
(and, sink me! if there isn't a bit of a
discussion
going on over at Dance Chica's about
The Scarlet Pimpernel
book, which I haven't read,
yet
, but enjoyed lurking on the discussion anyway...)